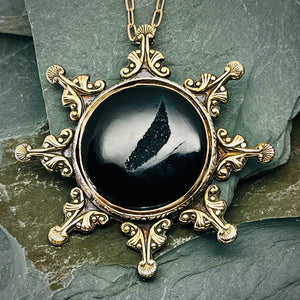 Black Hole Sun Pendant
I couldn't help myself, sometimes my sense of humor gets the best of me!
This pendant is fit for a queen, if that queen is a fan of Nirvana! Just kidding, this stunner is mixed metals with bronze rays set into copper backdrop and a band of sterling silver to set off the druzy inside a gorgeous black quartz. This design comes with a 20" bronze chain.
Overall size - 2.5" x 2.5"