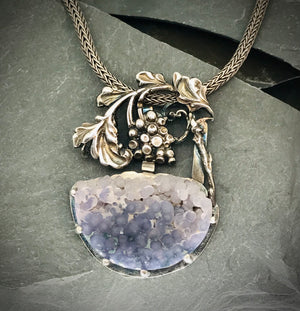 Got any Grapes? Pendant
This heavy duty, one of a kind pendant is solid sterling silver and features a stunning druzy live edge grape agate, cut and cabbed here in Michigan. The accompanying design is a lost wax casting from a cake fondant mold and a budding tree branch, giving the perfect compliment to the stone.
This pendant does not come with a chain, The chain pictured is an antique woven chain from India and is 16" in length. If you would like to purchase this chain, please add $140 to the total. This is the only chain I have left of this type, no others are available.
Overall size - 1.5"x2"